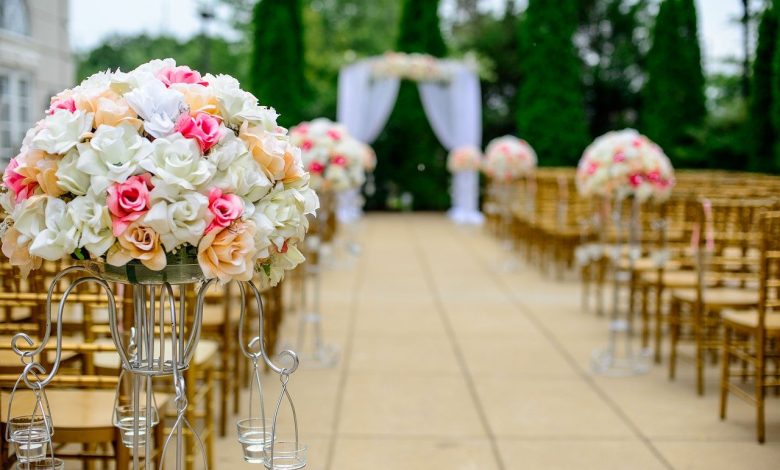 The first impression of a wedding is the look and feel of the wedding ceremony. It is also the moment when the bride and groom reunite to exchange their vows after a time of separation. Clearly, the aisle and alter have to exude elegance!
Light it Up
For wedding ceremonies after dark, lighting up the aisle and alter is not only practical but can also give the ceremony a very special feel. Lanterns are perfect for aisle lighting, they can be used in a variety of dofferent ways. Some examples include placing them on the actual ground and hanging lanterns from miniature trees or planted hooks. Spotlights are ideal for alter lighting. Utilize those once a year white Christmas lights and tie pieces of tulle or burlap near each tiny bulb to create a fuzzier light and outline the alter.
Flowers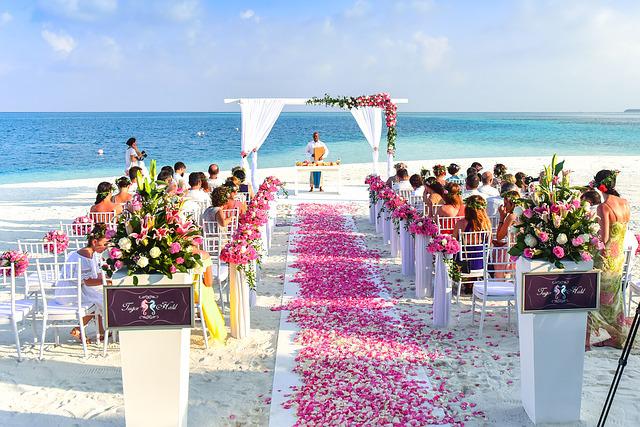 These are the most commonly used decor for wedding ceremonies. Of course brides can choose to have small bouquets tied to the outside of pews or chairs with ribbon or other types of fabric. To set your flower usage apart, use recycled mason jars instead! Using recycled items in any case is a small environmental win, but using these jars give a western chic look that is also low cost! This decor can fit into any DIY or budget wedding! Other ideas for flowers decor include metal pails, hanging bouquets from a planted hook with ribbon etc. Use more fragrant flora like lavender that will give a nice, serene, and calming smell that wedding guests will be sure to love!
Nautical
For seaside wedding ceremonies there are tons of props that brides can choose from! Lifesaver tubes are a must. Alternate hanging lifesavers from ceremony chairs and add accents of neutral colored flowers to keep the red in the tube as a focal point. Starfish are also an easy prop to adhere to chairs or pews. Sailing flags are great to string along the chairs. Even cuter? Spell out the couples last name using sailing flags! Other decorations include, sea shells, fishnet, and anchors.
Covered Aisle
This is an excellent way to add an air of drama and elegance to a blank or open wedding ceremony site. To make this a possibility an event designer or architect would have to create and build the infrastructure to drape the fabric from. Chandeliers, flower arrangements and extra lighting should also be used to highlight the depth of the draped fabric.
Other Props
Vintage picture frames are an excellent and out of the box wedding ceremony prop. Use pictures of the couple, the couples family, or pictures of loved ones that have passed. Empty picture frames can be used as well to represent the pictures the bride and groom have yet to take. Tissue balls are ideal for DIY and budget weddings. These inexpensive props look great, are easy to match, and are easy to dispose of! Balloons would also qualify as an ideal candidate for budget wedding decor. Although the nation is currently undergoing a helium shortage, grocery stores like HEB and their Bloom department are currently selling helium balloons. Over sized balloons add a pop of color and an effortlessly chic look.